Experimenting: Algorithmic Poetry
Sample of work created during "Algorithmic Poetry – Speculative Imagination, Machine Learning and Code Studies", run by the School of Machines, Making & Make-believe in November/December 2020.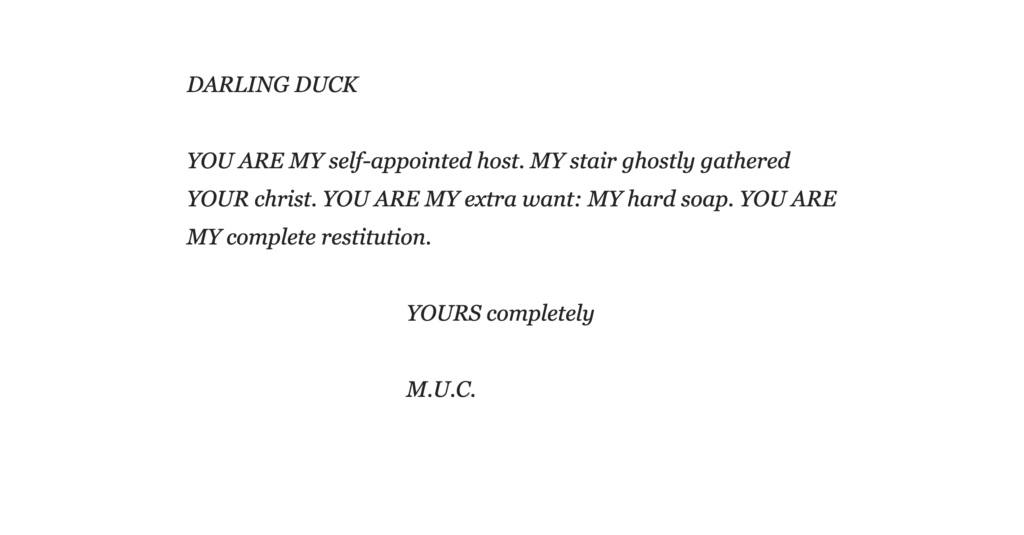 This poetry generator adapts Nick Montfort's "Love Letters". It is adapted to use randomly selected vocabularies taken from the song lyrics of Amy Winehouse, Nirvana & Prince, with lyric collections from: https://www.kaggle.com/paultimothymooney/poetry
The requirements of the exercise were to consider:
Can you make the love letter generator be more human?
Can you change the word database for it to perform about other topics?
What kind of topics would be relevant?
How does the work change by modifying the complexity of its processes?
What does the texts gain from that action?
Will the statement of the work be different if we increase/decrease its complexity?
Outputs
The Algorithmic Poetry Programme
The programme was run by Mario Guzman.
The class aims to merge three different universes: code, literature, and machine learning. We will descend into this Bermuda Triangle of disciplines with a poetic, speculative, and conceptual approach, as well as a technical perspective. What is the difference between writing with code and writing with text? Is code a new material? What is electronic literature and code poetry? How far the-rabbit-hole can computers take us?
This poetic interpretation of computational logic in creative coding and machine learning will allow us to review concepts and engage with tools to convey new meanings to our writing experiences. After this month-long program, each participant will have a wide array of concepts and techniques to continue exploring poetic code writing with machine learning alongside their own digital art practice.