Update to TwitEye – feeding you good ideas
Yesterday I made some design tweaks and added some new features to TwitEye, the little web app I launched a couple of months ago.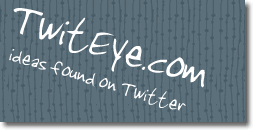 TwitEye streams ideas for new applications and services based on questions asked by Twitter users, so, for example, "is there a service that lets me translate news feeds into different languages?". At the moment it is categorising requests related to applications, software, iPhone apps, plug-ins and different services. The idea behind it was that the "idea" isn't the most difficult part in getting a new product or service together; it's what happens with the idea that counts.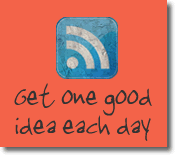 The latest update to the service is the addition of an ideas blog & RSS feed which will publish a selected idea each day from the stream. With a lot of applications that have limited functionality or aren't doing something that I immediately "need", I generally take a look at them once, think "oh, that's nice", and then forget about them. The addition of the RSS feed is a way to share some of the good ideas that are coming through the TwitEye stream, without people having to come to the site & watch the stream flow by (although there can be some good stuff in there if you do).
The app itself is at TwitEye.com, and you can find the ideas blog and the link to the daily idea RSS feed at twiteye.com/ideas/ (and if you're not up for the full commitment of an RSS feed you'll also get the updates through @twiteyeapp on Twitter!).
The best way to further improve it is through feedback & comments, so don't be shy…