FineTuna is a web application for sharing and collaborating on images. It's a nice idea (with an odd name), and another really nice & simple design by the folks in Spoilt Child (this is the second service they've had Tuesday Pushed – here's the first one I did). It's a good thing when an app can sell itself in 7 words, and FineTuna does just that: "Add comments to any image and share".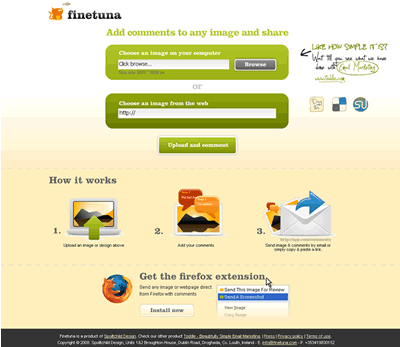 The idea behind is is that you can upload an image directly, or by a web address, add your comments, and FineTuna sends a link to it off to someone else by email for review….easy.  There' s a screenshot of a quick one I did below when I was checking out the service (see the original here).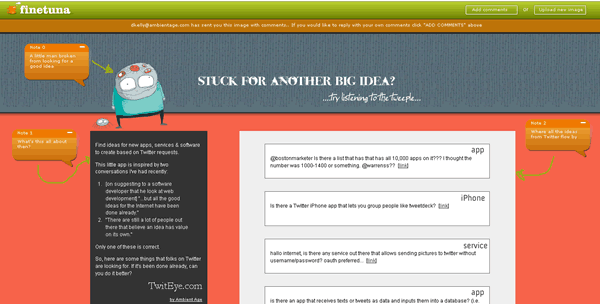 As a way of showing people design work as you go it's a handy tool. I also installed the Firefox plugin which is really useful – it allows you to send screenshots from your browser into FineTuna for commenting; if I was going to use the service again, it would be because of this tie-in.
Having said that, I think there are a couple of areas that could be improved:
Because the url to the image is public, I wouldn't be comfortable sharing commercial design works-in-progress in a way that's publicly accessible; I've seen a few other people mention too…so offering this as a paid service could be a good way to bring in some cash;
I'm terrible at drawing using a mouse (a sometimes shaky hand). Some basic shapes, such as lines & arrows would make the marked-up image look a lot better than my shaky hand-drawn efforts;
I saw mentioned on Twitter that a desktop app that ties in with the service would be useful. I'd definitely agree. An alternative service is Skitch, but because I don't use a Mac, I can't use Skitch…a FineTuna alternative I could use would be great!
Now, off you go and check out FineTuna.
The Tuesday Push
The Tuesday Push is a community-driven approach to promote innovative Irish tech companies & services. You can nominate your company or product (if it fits the guidelines) using this form linked on this page.
Have a look at some of the other Irish services that got a Push on this blog.