Tuesday Push – Sxoop's Twitter Mosaic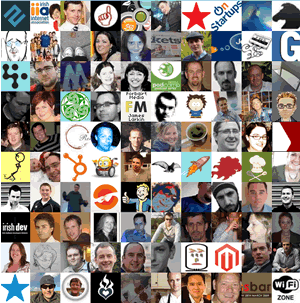 Next up in the Tuesday Push series is the Twitter Mosaic by Sxoop Technologies. If you're a Twitter user, this service gives you a mosaic of all your friends or followers.
I first saw this being linked to on Twitter when it started out a while ago, and since then, Sxoop have gone into Twitter merchandising by adding a way to get your mosaic printed onto a t-shirt, coffee mug or bag, or having your Twitter profile information added straight onto a business card.
While the service isn't pretty, it's a nice & novel way of bringing together people's growing use of twitter with life away from the computer.  This is the second app I've seen by Sxoop to do with Twitter – the first was responsible for putting lots of Santa hats on people's Twitter profile pictures in the run-up to Christmas.
Watching the development of the service from the outside was also a nice look at how an innovation develops – I'm not sure that they had selling merchandise in mind when developing the application (but maybe I'm wrong).  Creating a simple application like this that ties in with inexpensive products and that will appeal to the millions of Twitter users was a great idea. Also, given the promotion that Twitter is receiving in the media, I'm sure user numbers will keep rising, which is good news for Sxoop and other companies offering services like this.
Staying with the Twitter theme, if you're in Galway this Thursday, check out Galway's Twestival; it's on upstairs in Nimmos and is part of the global Twestival that's being run for charity in over 175 cities.
[Update (12/2): I said above that the service isn't pretty…..well it is now, after some work by Sabrina Dent it's looking way better.]