Mobile Internet & Camera Usage – A Survey (Part 2 of 2)
This is the second part of the results of a survey I carried out on the use of mobile phone camera & Internet usage. This part looks at how people use the Internet  on their mobile phone.
The first part of the findings look at mobile phone camera usage and profiles survey respondents.
How do you access the Internet on your Phone?
Key points:
Only 6% don't have Internet access on their phone
Just over 20% never use it
34% use WiFi on their phones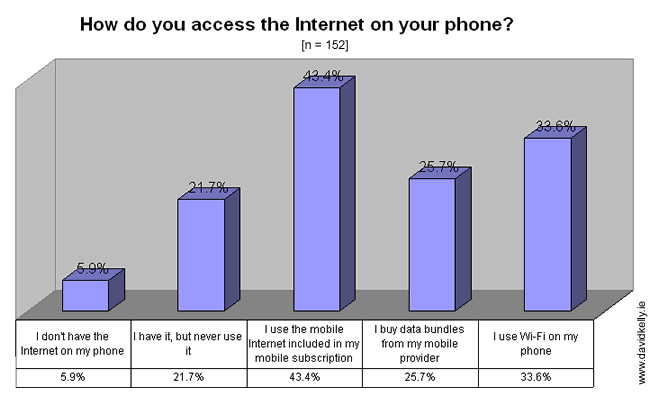 The high proportion of respondents using WiFi surprised me. However, it is unlikely to be representative of the population; instead it is likely due to bias in the sample where the sample are generally technically-aware early adopters, (Twitter & RSS adopters). It should be noted that multiple answers were possible, which is why the figures exceed 100%.
How often do you use the Internet on your phone?
Key Points
50% of respondents access the Internet on their phone on a daily basis (with 43% accessing it several times a day.
Almost 25% never access the Internet on their phone.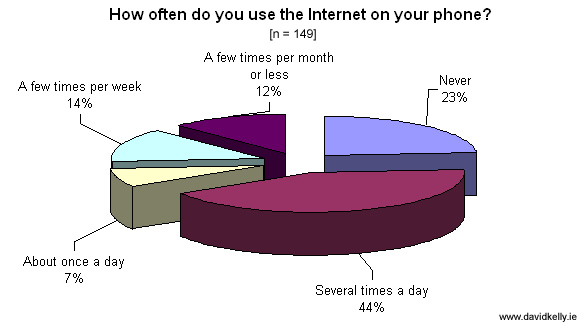 Again, I do not think the 44% who access the Internet several times a day is representative of the general population; it is more likely due to the profile of those who responded to the survey. It does cast a bit of doubt on the reports that people aren't that interested in using the mobile internet (via Pat)
What do you use the Internet on your phone for?
Key Points
2/3 of people who answered use their phone for general browsing of websites;
Almost half use it for accessing Twitter, with almost the same number using it for accessing Social Networking sites.
A quarter of users access productivity tools (such as calendars & to-do lists) through their mobile.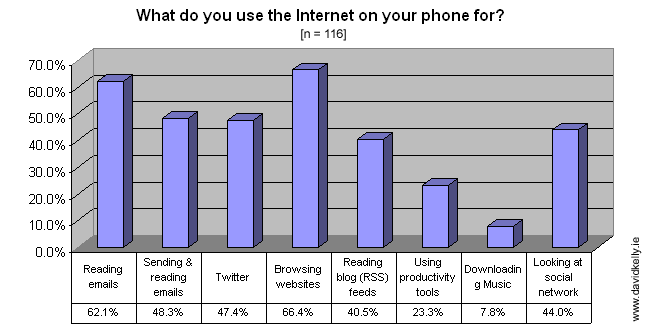 Some of the numbers for "active" use are quite high, such as sending emails (almost 50%), using productivity tools (almost 25%). Given the small size & more limited functionality of mobile phones, I hadn't expected high levels of this type of active use.
Does your phone have GPS (Global Positioning System)?
GPS is still an early adopter technology and it isn't widely bundled with phones yet, as shown by the finding of 75% not having it, don't know if they have it, or have never used it.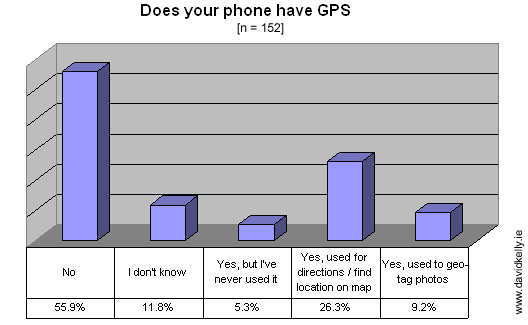 So what? Well, this means that location aware applications are still some time away from gaining mass adoption (on mobile devices, where they will be most useful). It's unlikely that these types of applications will find a mass market until integrated GPS on mobiles becomes more widespread (i.e. bundled in the lower range handsets), and users become comfortable with the technology (by using it in other contexts, for example, in the car where adoption seems to be rising).
Having said that, with one quarter of respondents having used GPS for its most basic application, and just under 10% having used it for geo-tagging photos, there are early adopters out there.
Response Rates
During the time the survey was open, 203 people viewed it, with 152 completing it. This data is available by comparing the stats generated by Short.ie, which shows how many people clicked on the truncated link I circulated, with the total number of responses. (This number has since risen to 310 views).
There were no cases of the survey being abandoned after it had been started (meaning all responses were usable).
Credits
Thank to everyone who took the time to complete the survey; it's much appreciated. Also, many thanks to Damien Mulley and Joe Scanlon who both promoted the survey on their blogs, which contributed to the high response rate.
I carried out the survey to help fill in the blanks on an idea I had; the good news is that it did, so I'm working away on turning it into something that works. More on that here in the future.  If anyone would like any more details on the results feel free to contact me in the comments, or directly.