And….we're done – Barkcamp Cork, '08
Ok, so a slightly late look back on Barcamp Cork which was on Saturday in the Cork Webworks. As I said, the community spirit is alive and well in the Cork Tech community. Over 100 people showed up, mainly from Cork, but also from Dublin, Galway (well, me anyway), and also from the North.
There were a  number of stand-out sessions for me. After a morning of fairly techy talks (including a first look for me at Django, given by Bartosz Ptaszynski) there was a session by Pat Phelan & Alexia Golez called "Lunch is for Wimps". This was an informal talk about some of the business challenges facing people who have, or are thinking about setting up their own tech business. There was some great advice and experience shared, but two things stuck with me when it all finished:

The first was to "just go and do it". So, either launch a product / service or set up a company, and then work on developing it further from there. It's often too easy to keep working away on a project without it getting finished and seeing ever the outside world. Being in a situation such as this at the moment, they are some wise words for me to get finished up;
The second theme that stuck with me was the need for community. By this I mean helping out others working in the same area when you can. Parallels were drawn between the openness of tech community in the US, and the situation here in Ireland. I agree with this type of thinking (which is why I liked the Tuesday Push idea so much). I don't think that sharing contacts or writing a blog post is a major hassle, particularly when it's helping someone that's starting out. (although, obviously it depends on the circumstances – just in case I drown in spam after saying that!)
The second stand-out session for me was by Eoghan & Des from Contrast who gave a talk on Violent Web App Design (with some of the best slides I've ever seen for a presentation!).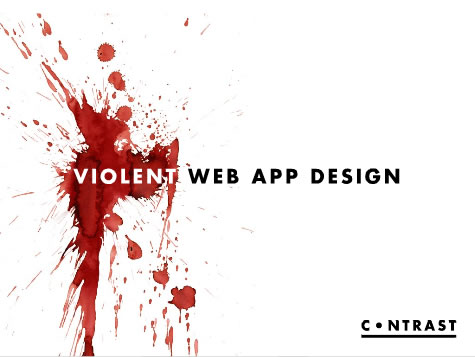 They gave a lot of great advice on developing clean, usable web applications that are "opinionated" – that users will want to use, will see a personality in, and will identify with. They also motivated me to go and pull out some of the fade-in, fade-out messages I spent ages adding into my latest work of art.
Other sessions I was impressed with were those by David Behan (on sales), Alan O'Rourke of Spoitchild (looking for interface solutions for Toddle), and the parts of the new media panel that I saw.
Other Barcamp Cork Related Stuff: