eWrite…having a Tuesday Push
The next Irish web application feeling the Tuesday Push is the hosted Content Management suite by eWrite. eWrite offer small businesses a way of keeping their site up to date, without having to rely on web developers to do it for them.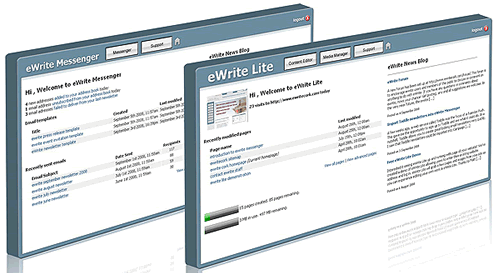 Having had a browse about the eWrite site, I was especially impressed with the novel CMS demo being offered (and I'm not the only one that liked it). It allows you to play with the eWrite Lite features by editing the content of any live site. Considering the product is aimed at small business owners who generally won't have the ability or interest in installing CMS software to try it out, this type of demo is an excellent idea.
I also like the look of their other Messenger product that allows site owners to manage email newsletters; especially as it offers integration with email newsletters generated by another of the Tuesday Pushee's: Toddle.
Coincidentally, I subscribed to the RSS feed of eWrite's blog a week ago and there's some interesting stuff there (with the exception of the invention idea of coffee flavoured porridge! ).
I think their products have a broader appeal than they're currently being marketed towards. The site's tagline is "Helping Cork Business Get on the Web", and I think they may be selling themselves a bit short. I'd guess that there are a lot of small businesses outside the "People's Republic" that would be interested in getting their hands on their products.