Email Marketing with Toddle (Tuesday Push)
It's Tuesday Push time again. This time around it's Toddle who do simple email newsletters. Toddle allows you to easily create email newsletters and send them to as many people as you want. They offer this for either free, or for €6, depending on the design you go for….a good deal.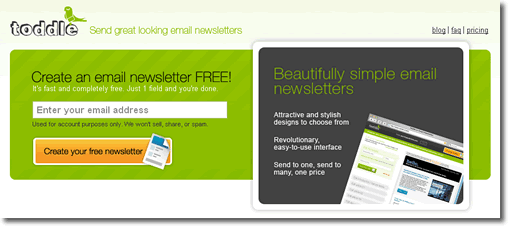 I've played about with their application in the past before recommending it to a client who had no experience with email marketing, and it's extremely easy to use. As with the last Tuesday Push application, Toddle's design is simplicity at it's best.

There are no complex or unnecessary features, which leaves the interface uncluttered. They have made adding text and image content of your newsletter extremely easy by providing you with access to different blocks of the newsletter (e.g. Header, Article 1, About Us, etc) – and any changes are shown immediately on your design. They have also adhered to Email Standards and tested it in a wide range of email clients, which is going to help you make sure the newsletter people are reading looks like the one you spent your time designing…which is always nice!
I haven't used Toddle for business yet, but when the first application being worked on over at Ambient Age launches, I'll be spending some time perfecting my email marketing materials over on their site.
Some Other Toddle Pushes…
Other Recent Tuesday Pushees'